Luminata Eau de Parfum Spray 50ml
Launched in Malaysia OCT 2018, this fruity floral fragrance was created by Maurice Roucel. The top notes for this fragrance which only comes in eau de parfum, has a top note in raspberry, with a middle note in peony and a base note in vanilla. Luxuriously bottled in the shape of a crystal, each
Description
Launched in Malaysia OCT 2018, this fruity floral fragrance was created by Maurice Roucel. The top notes for this fragrance which only comes in eau de parfum, has a top note in raspberry, with a middle note in peony and a base note in vanilla. Luxuriously bottled in the shape of a crystal, each bottle is presented with an elegant Swarovski crystal pendant, set in 925 silver, that will leave you feeling radiant.
Stand a chance to win
SWAROVSKI BRACELET, buy 6 bottle Luminata and fill the form
http://bit.ly/Luminataluckydraw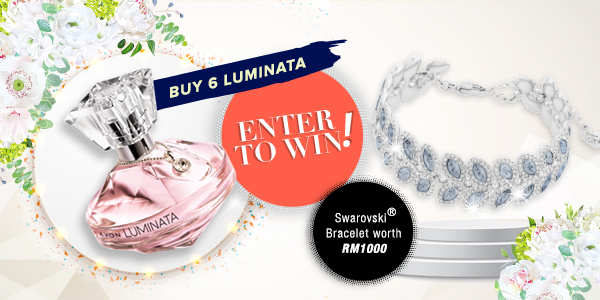 Terma & syarat (T&C):
Peraduan ini terbuka kepada semua Wakil Avon.
Peraduan ini terhad untuk pembelian 6 Unit (percuma 1 unit) Luminata Eau de Parfum Spray 50ml di Shop & Earn Kempen 19, 2018 dan dilaman Web Avon.
Untuk pembelian online, wakil avon hanya perlu masukkan Sales ID / Order No: Contoh: SNIO0000111 didalam borang online ini http://bit.ly/Luminataluckydraw
Tarikh penyertaan ialah dari 1 – 31 Oktober 2018.
Cabutan rawak akan diadakan untuk menentukan pemenang-pemenang dan dikira sekali sahaja. Pemenang layak untuk mendapat satu (1) cabutan hadiah sahaja.
Pemenang akan diumumkan oleh AVON pada Disember 2018.
Pemenang perlu menuntut hadiah sebelum Januari 2019. Pemenang diminta menunjukkan Kad Pengenalan semasa menuntut hadiah. Hadiah yang tidak dituntut selepas tempoh tersebut akan dibatalkan. Hadiah tidak boleh ditukar kepada wang tunai.
Semua kos pengangkutan, penginapan, kos peribadi, dan/atau sebarang kos, yuran atau perbelanjaan lain yang berkaitan untuk menyertai peraduan ini dan/ atau menuntut hadiah adalah tanggungjawab pemenang sepenuhnya.
Keputusan pengadil adalah muktamad.
Hadiah hanya boleh diterima oleh pemenang sahaja. Hadiah tidak boleh dipindah milik.
AVON berhak menggantikan mana-mana hadiah dengan barangan yang sama nilainya tanpa sebarang notis.
Dengan menyertai cabaran ini, setiap peserta bersetuju dan menerima sepenuhnya semua terma dan syarat cabaran tanpa keraguan.
AVON berhak menggunakan nama dan foto pemenang untuk tujuan pengiklanan dan promosi.
AVON tidak bertanggungjawab di atas sebarang tuntutan berhubung dengan kehilangan harta benda dan nyawa serta kerosakan hasil daripada atau berkaitan dengan peraduan ini atau berhubungan dengan hadiah yang diberikan menerusi peraduan ini.

Reviews (1)
nice smell

berbaloi beli time sale.