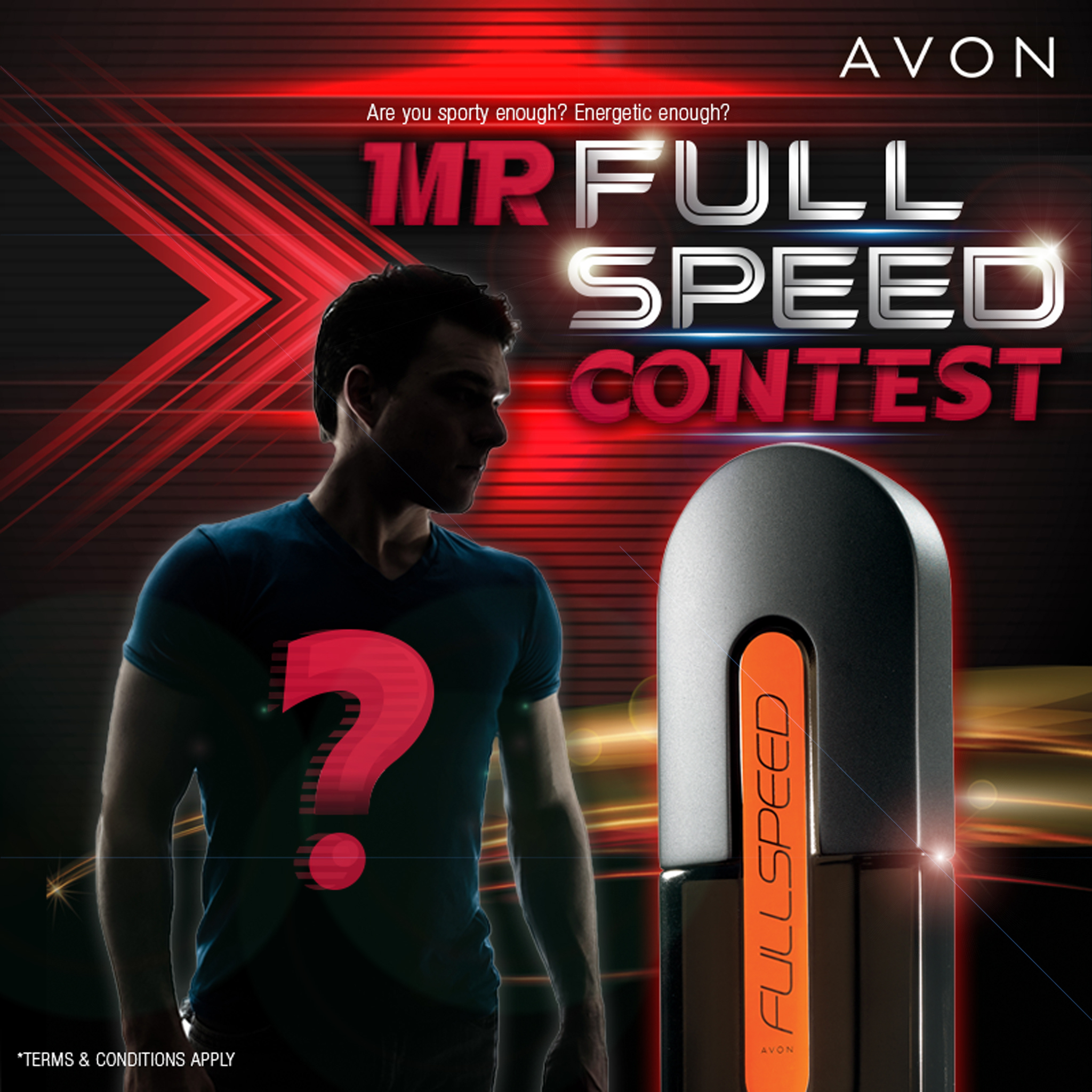 How to Participate?
1. Purchase a minimum of 1 bottle to participate in the contest via Facebook.
2. Only 1 entry per participant; attach your receipt & share with us why you wish to be Avon's Mr. Full Speed (less than 30 words in English or Bahasa ) along with your most sporty picture with Avon Full Speed fragrance! (Submit your entry to : eavonmalaysia@gmail.com )
3. Click Like and Share/Repost the image on your Facebook with the hashtag #AvonFullSpeed #AvonMalaysia #AvonMy.
4. 3 participants will be shortlisted, shortlisted photos will be posted on social media for voting. Voting period is from 1st – 3rd September. Contest ends on 3rd September.
5. The participant with the highest votes will be selected as the Avon's Mr.Full Speed.
6. Make sure your profile is set to "public" during the entire contest duration


*Mr.Full Speed Prizes:
1. Cash Prize of RM1,000 and a Full-Speed fragrance
2. Feature as a model on Avon's brochure for Full Speed Fragrance



Terms & Conditions
1. This Contest is only open to men age 18 and above except Avon associates and representatives, friends, family and vendors of Avon.
2. Voting opens on 1st Sept 10 am until 3rd Sept 10 pm.
3. Avon will shortlist 3 candidates based on Creativity; Originality; and Appropriateness to the theme of 'Full Speed"; Sportiness, Energy and Positive Masculinity.
4. Judges' decision is final, conclusive and binding. No further appeal, inquiry and/or correspondence will be entertained.
5. Entries end on 31st August, no further entries past deadline will be considered.
6. Winner will be directly informed by Avon HQ.
7. Receipt of purchase must be attached in every entry submission.
8. Incomplete entry (caption, receipt, and picture) will not be considered. Multiple entries are not allowed.
9. Avon may at its sole and absolute discretion modify, extend, withdraw and or terminate the contest period and mechanism at any time without any prior notice to any party whatsoever. Unless otherwise varied to the contrary by Avon, any participation in the Contest during the extended period (if any) shall be governed by the Terms and Conditions set out herein which shall remain in full force and effect at all times.
10. Avon will not be liable for any liability related to injuries or any form of loss or damage that may happen from entering this contest / the use of prizes from this contest.
11. Participation in this contest means participants agree:-
· To all terms & conditions inclusive of any amendments
· Agree and give the rights to Avon and any third party appointed by Avon to use name and or pictures of all contestants for promotional and advertising purposes in any media without any remuneration
12. If winner is from Sabah & Sarawak, Avon will not cover any expenses of travel for collection of prizes.
13. By participating in this contest, participants agree to all terms and conditions inclusive of any amendments and all decisions made by Avon.