Avon products come with 100% Satisfaction Guarantee. We pride ourselves in providing the best products for you. Below are guidelines to return Avon products from Avon Online:
A) Return Period
Products can be returned within 1 month from Order Date
- Valid for Cosmetics, fragrance, skincare, personal care, jewelries, bags, innerwear, watches and wellness products.
(Avon watches come with one (1) year warranty for mechanical malfunction)

B) Return Reasons
You can choose any of the following return reasons:
1. Damaged upon arrival
2. Received extra quantity
3. Received incomplete set
4. Received wrong product
5. Not satisfied with products -fragrance/measurement
6. Product defective
All products you choose to return must be returned to Avon HQ. Avon reserves the rights to not proceed with store credit refund if items are not received by us. Please attach photo of damage or issues in your return request.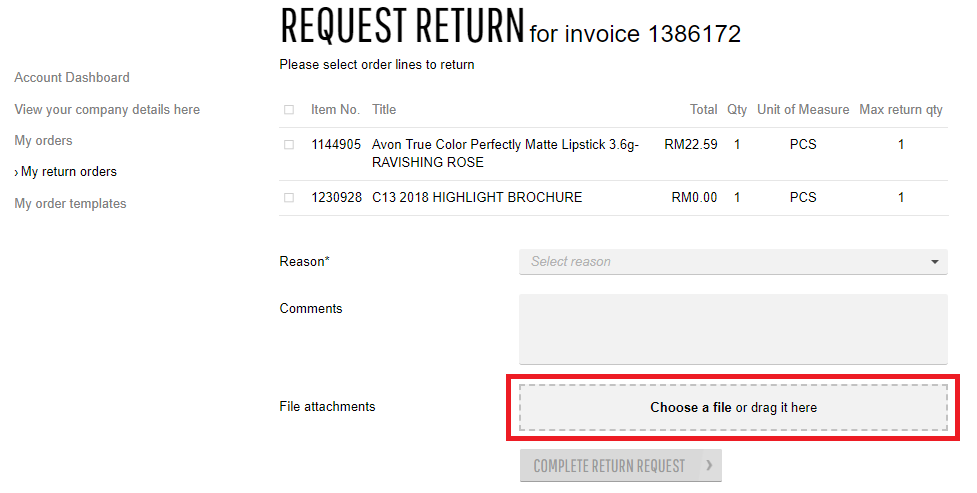 C) Non-returnable & Non-exchangeable Items
Please note due to final clearance and hygiene concerns, items under below categories are non-exchangeable, non-returnable and non-refundable. Kindly double check your items before returning.
- Hosiery
- Lingerie sets (including women's shapewear and body shapers)
- Underpants
- Free gifts*
D) How to Return
1. To return, go to
'My Account'
>
'My Orders'


2. Click
'My Orders'
. Choose type dropdown
'Posted Invoice Detail'
and filter to your desired date. click
'Search'
3. You will see a list of your past successful orders. Choose the invoice of item you would like to return. Click
'View Details'

4. Click
'Return Order'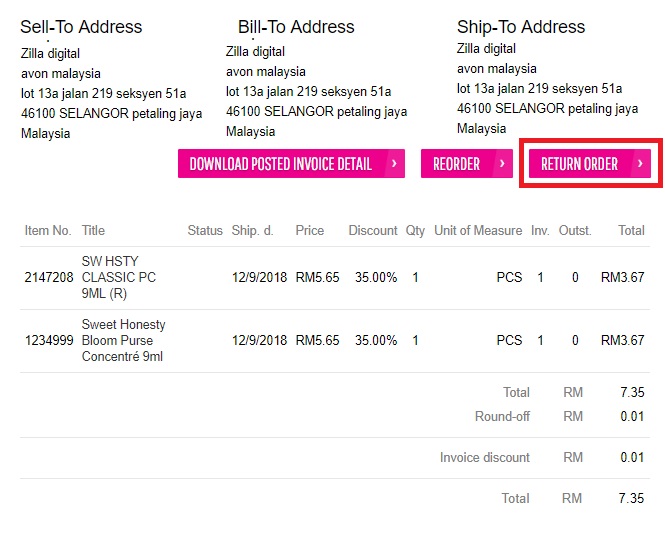 5. Click the item or items you want to return, choose the reason code and submit
Complete Return Request
.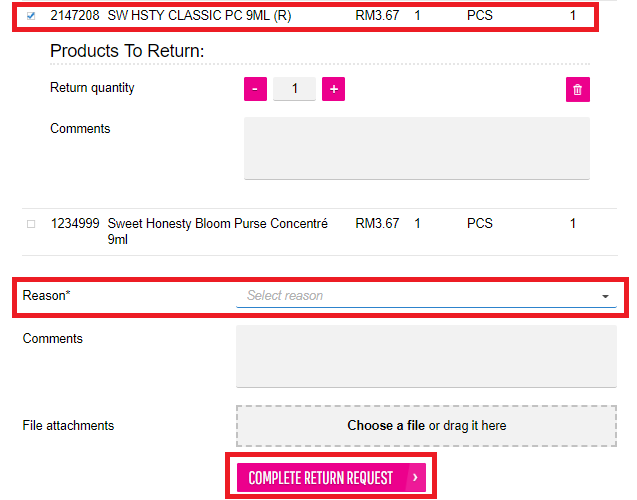 6. Return request completed.


7. After creating Return Request, please send parcel immediately
(within 1 - 2 workings days)
from date of Return Request created.
STEPS TO RETURN PARCEL:For MALAYSIA
1) Pack the items securely and return to:
Att. To:
Agility Global Integrated Logistics
(Avon Malaysia)
NO. 10 (PT503) PERSIARAN SABAK BERNAM
SEKSYEN 26
40400 SHAH ALAM
SELANGOR


For SINGAPORE
1) Pack the items securely and return to:
2) Write your return ID number (Ex: RI-00058) and Avon Account ID on your parcel where we can see it (form or courier plastic).
Note: RETURN ID IS MANDATORY.
3) Once you have posted your return parcel, email Avoncare.my@avon.com with below details:
Email title: Return Order (SNIO0000001)
Email content:
Name - AHMADAccount ID - 1234567Return Invoice Number - RI-00001Courier Tracking Number - EN 123456789 MYAttachment:a) Picture of delivery receiptb) Picture of bank receipt (only for cash / non-credit representatives)
E) Return Terms & Conditions
(Revised policy on 9 October 2018)
Item must be in its original purchase condition, packaging must be unopened, unused, unmarked and not defaced in any manner. (This applies to Jewelries, bags and innerwear)
This return policy does not apply to items, which have been stated as Non-exchangeable or Non-returnable.
Items purchased as part of a set or a multi-item pack must be returned as a whole set, including free items. Ex: free pouch with skincare set. Please return the pouch along with skincare set. Failure to do so will result in rejected return.
Items purchased from Avon Beauty Boutique cannot be returned online.
Free gifts may not be returned individually or exchanged with credit.
Avon will bare the cost of return for reason code 1 until 6. Representative have to bare the return delivery cost themselves if they are not satisfied with the product (fragrance / measurement / taste / shade / size).
Returns are only acceptable within 1 month period from order date. Return requests from invoice that exceed this period will be rejected.
Only store credit is refunded. No cash will be refunded.
It will take 14 working days upon receiving returned goods for refund to be credited into your account.
Avon reserves the right to withhold any refunds if your original items have not reached our warehouse within the stipulated time or at all.
F) Exchange and refund process
1-to-1 size exchange for lingerie or other Avon Intimates items are not available via Avon Online. We recommend to return your item for a refund in the form of store credit (Credit Representatives) or cash (Non-Credit Representatives) to be used when you place a new order for a different product.
* Terms and conditions apply